In this video filmed by Jack Cohen Photography he uses a drone (DJI Phantom 1) modified with a wire frame made from a coat hanger and some zip ties to create a very effective fishing drone. A special loop in the line is used to carry the bait out without the line getting tangled in the wind.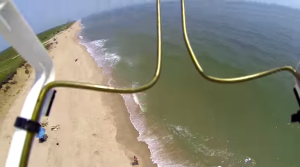 (His drone is the DJI Phantom 1 and it was filmed with a GoPro hero3+)
Unlike some of the other examples on this site where a sudden backwards/forwards movement is used to release the bait because the line is on a loop he positions the drone towards the beach, the loop detaches and the lure falls into the sea (1.56 in the video). As the drone fly's back you can see some pretty big blue fish swimming on the surface.
It was a windy day and he almost loses control of it towards the end of the film, if anyone has an idea on how to recover/retrieve a drone that gets blown into the sea please get in touch!