Our rating: 

 (5/5)
This drone features on our site a few times, firstly in this beach drone fishing video and again in a carp fishing competition from Lithuania where someone actually used the drone to fish directly rather than as a bait delivery tool.
Important Note!
Before flying this drone for the first time it's important to complete a couple of easy to do steps to calibrate the compass and GPS so that the control computer will operate correctly. Otherwise your drone may go on a little drop of it's own.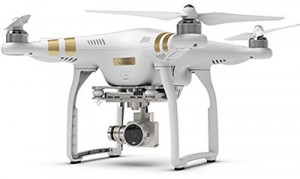 Phantom 3 Flight Software
The Phantom 3 quadcopter has a flight control system on board, it collects data from the entire system, including motor speed, GPS location, your command inputs, and data from automatic sensors, and analyzes it all to tell the Phantom 3 exactly how to behave at any given moment. It uses GPS navigation because of the complexity associated with multi-rotor aircraft the Phantom 3 relies on a GPS-based navigation system to maintain flight stability and provide other features, while fully manual operation is possible, most people should opt for one of the GPS-assisted modes
Where to buy
| Model | Price | Link |
| --- | --- | --- |
| DJI Phantom 3 Advanced Drone Action Camera | £869.23 | Link |
| DJI Phantom 3 Pro – 4K UHD FPV Camera | £1,134.00 | Link |
| DJI Phantom 3 Pro – 4K UHD FPV Camera + 2 batteries |  £1,205.00 | Link |
Phantom 3 Common Questions
Q: Does the Phantom 3 record video to the SD card in the camera or does it stream the images back to the iPad connected to the controller?
A: It can do both, but if you save it directly to the SD card it will be a better quality image/video.
Q: Do they work on 230/240V (for UK)?
A: Yes it is 220/230/240v.
Q: What type of iPad/software should I use?
A: The software from the app store is called DJI app, the iPad mini is probably the best one to use but it is compatible with the following iPad Air, iPad Air WiFi + Cellular, iPad mini 2, iPad mini 2 WiFi + Cellular, iPad Air 2, iPad Air 2 WiFi + Cellular, iPad mini 3, and iPad mini 3 WiFi + Cellular.
DJI Phantom Carry Case
MC-Cases have made one of the best looking cases for the DJI Phantom 3 Pro/Advanced, it's also very strong and waterproof. As with all drones having a strong case to protect it while transporting it and for storage is essential.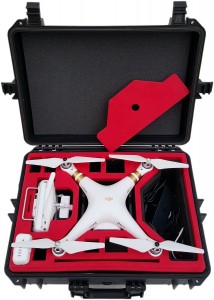 This case may not be the most expensive case you can get for this drone but it's the one we rate as best. It's still not exactly cheap at £149.00 (from MC CASES) but you're going to need a strong/protective case.