The AguaDrone hasn't actually been released yet however it's not far away (scheduled for November 2015) and claims to be the first drone ever with sonar! Unlike the other drones on the market this one has been designed with fishing in mind, hence the inclusion of sonar.
The AguaDrone is waterproof and has a well designed system to add attachments such as the sonar pod or a camera pod. The sonar pod send a signal (via wireless) to your phone or iPad effectively turning the drone into a mobile fish finder.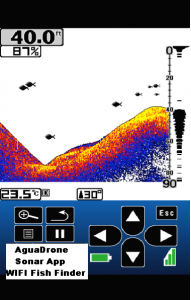 They also have a 'line flyer pod' which can be used to hook your fishing line to, flying out past your casting range then releasing your hook bait remotely in the water. This gives you the option to cast further and to the perfect spot helping to avoid any weeds or undergrowth.
Above you can see a picture of the drone and the pop system that is located in the center of the drone.
It's built of a material called PC/ABS (a compound blend of Polycarbonate and ABS), this makes it strong and heat resistant.
They were featured on KickStarter to raise funding to put the drone into production, here's the video they put up showing the drone and what it can do.
And another video showing the AguaDrone delivering 1 lbs baits:
It definitely looks like one super cool fishing drone! For the full package it's priced at $1,099, we are waiting to see if they're going to sell to the UK, but in the meantime we can't wait to see more videos.